Special Service Tool Storage System
USD $5,985.00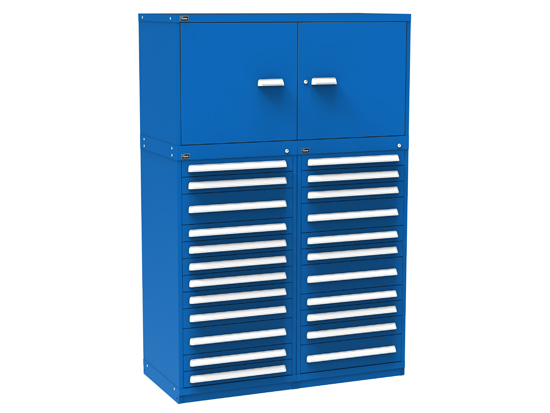 Click to view California Proposition 65 warning
SUBARU ESSENTIAL


Attention Subaru Service Managers, Service Directors
Issue: Suspending Daily orders of Stanley Vidmar Tool Storage Cabinets until SRA tool audits are completed.
Action: Subaru of America announced to all USA retailers that a national tool and equipment survey will be launched beginning January 2018. These surveys have already begun. One of the requirements following the survey will be the mandatory distribution of the Stanley Vidmar Tool storage system to dealers that do not currently have them. The cabinets that you will be sent following your survey will be at a significant discounted rate based on a production volume build.
Several retailers have asked that individual orders be placed for the cabinets prior to the scheduled survey so they can get prepared. This is not in your best interest financially or timewise. Stanley Vidmar, for daily sales enters these orders into a daily custom production schedule and it takes up to 6 weeks to fill that one order. And because this is not part of a volume production build is to be sold at full retail value. And those individual daily orders will only be delivered several weeks ahead of the production run, so there are no significant advantages.
Solution: All daily orders of Stanley Vidmar cabinets will not be placed, you will receive the cabinets as part of the production order following the SRA tool survey.
Continue to assemble the tools you have in an area where the EAA auditor can survey them. If you do not have the proper Stanley Vidmar Tool Storage Cabinets, the auditor will place the discounted order on your behalf, along with the tool order.
Pdf links can be found on this page of documents sent to all retailers beginning January 5, 2018. Please use the tool list as your guide to required tools in preparation of your audit.
Lifetime Guarantee on All StanleyVidmar Storage Cabinets!
The industry's only lifetime guarantee against defects of any kind.
554-SPL-SUB is a set of 3 cabinets that comprise of: (2) cabinets - 30" x 27 3/4" x 59" (1) overhead cabinet - 60"W x 27 3/4"D x 31"H
View the Service Readiness Assessment Preparation Instructions by
clicking here.
View the 2018 Subaru Service Readiness and Essential Special Service Tool Equipment Review by
clicking here.
Keep your specialty tools organized and safe with Stanley Vidmar Subaru Special Tool System. Our program saves valuable shop space, minimizes inventory time, and helps eliminate misplaced tools, while maximizing technician efficiency. Keep your tools in an easy-to-find location!
Click here to download PDF of master index.
Features
As new tools are added or removed, the master index and illustrate catalog is updated and posted to the website.
Master index lists every tool number and location.
Steel partitions are interlocking and repositionable.
Liner laminates are oil- and gasoline-resistant.
The master index is updated regularly, new tools are added soon after introduction, and old tools removed as the requirements change for tool compliance.
Accessories
Other Black & Decker Inc. (Stanley Vidmar) Products