Shop Press 17.5 ton
USD $4,253.00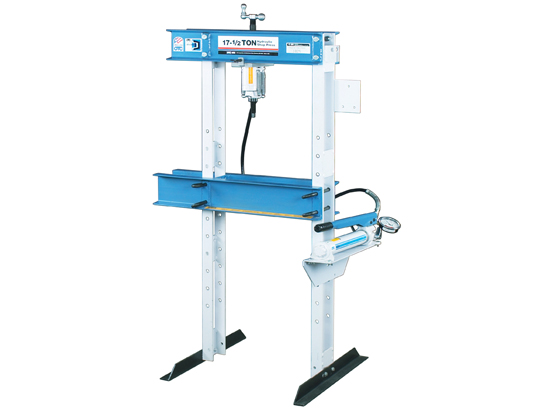 Ram head moves side-to-side for off-center pressing; ram-to-work distance is adjusted by forcing screw that is extended or retracted by speed crank.
"Open-throat" frame extensions make handling of bulky jobs possible outside of the press frame.
Has No. 201832 hydraulic ram with 2" stroke, No. 4002 hydraulic hand pump, No. 9650 gauge, No. 9767 hose, adjusting screw, speed crank, ram cap, and pump mounting bracket.
Made in U.S.A., covered by OTC Lifetime Marathon Warranty�.
Features
Capacity: 17-1/2 tons
Height: 64 in.
Base Width: 28 in.
Base Depth: 28 in.
Working Range Ram to Bed: Max. 34-7/8 in.
Accessories